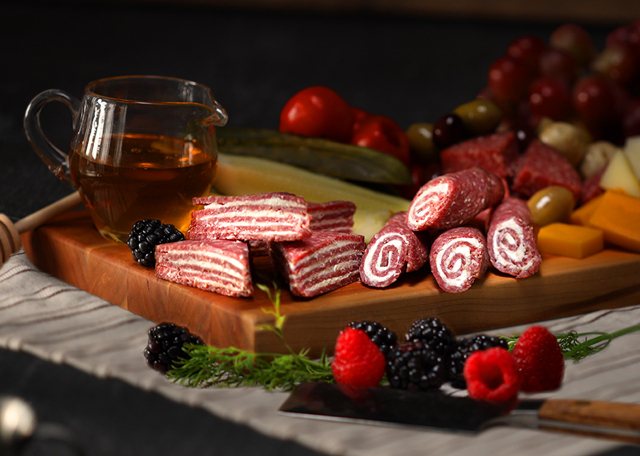 For the hungry kids who are itching for an afterschool snack, and for the kids at heart who are craving something delicious, level up your Charcuterie Board with thinly sliced pieces of Seltzer's Sweet Lebanon Bologna wrapped around smooth cream cheese.
INSTRUCTIONS
Bologna Roll
In medium bowl, mix cream cheese until softened. Add horseradish until combined.
Place Seltzer's Lebanon Bologna slices on flat surface, spread a thin layer of cream mixture on each slice.
Roll tightly. Cover and chill for 1 hour in the refrigerator.
Slice roll into half. Serve at room temperature. Makes 24 pieces.
Charcuterie Board
On wooden serving tray arrange meat and cheese selections.
Add remaining items
INGREDIENTS
Bologna Roll
¼ lb. Seltzer's Sweet Lebanon Bologna, thinly sliced
4 oz. cream cheese (softened)
2 tsp. cream-style prepared horseradish (more or less to taste)
Charcuterie Board
Blackberries
Raspberries
Grapes
Marinated mushrooms
Crackers of choice
Aged Old Cheddar cut into squares
Yellow Cheddar Cheese cut into triangles
Black and green olives
Dill pickles (spears)
Cherry Peppers
Mixed Nuts
Dips